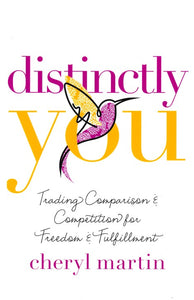 Distinctly You: Trading Comparison & Competition for Freedom & Fulfillment
Tribal Blessings
Regular price $14.99 $10.00 Sale
Product Description
All of creation is content to be what it was made to be except us. Fish flourish in water. Ants are not worried about their size. But we waste time on the three C's - comparing, competing, coveting. We aim at the bull's-eye on someone else's board, pursuing a race we weren't equipped to run.
In Distinctly You, author Cheryl Martin shows women how to develop their God-given uniqueness rather than becoming fixated on what they are not or do not have.  She unveils the actions and attitudes that may be sabotaging women and explores ways women can engage and build up their unique talents, interests, and strengths. Readers will be inspired by examples in the Old and New Testaments of people who were exceptional for God's kingdom. As the author shares her ongoing quest to be distinct for his glory, readers see how God created them to thrive.
Includes end-of-chapter questions for individual or group use.
Product Information
Format:

 

Paperback
Number of Pages:

 

224
Vendor:

 

Bethany House
Publication Date:

 

2016
Dimensions:

 

8.50 X 5.50 (inches)
ISBN:

 

0764215868
ISBN-13:

 

9780764215865