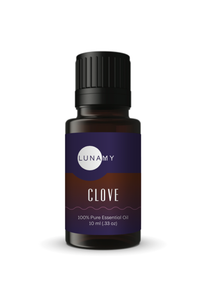 Clove 100% Pure Essential Oil - USDA Organic
LUMAMY
Regular price $16.00 Sale
USDA Organic 100% pure therapeutic grade essential oil. We exclusively source premium quality oils because we believe in giving you the best nature has to offer.
10 ml (.33 oz)
Steam Distilled
Eugenia Caryophyllus (Flower) from Syzygium Aromaticum 
Ingredients: Organic Clove Bud Oil
Clove oil has been traditionally for toothache, dry socket, nausea, bad breath, and as an expectorant for cough and loosening phlegm. It is a powerful antibacterial and anti-fungal. Add a few drops to a diffuser to promote respiration. Dilute well in a carrier oil before using topically.
Blends with bergamot, cinnamon, eucalyptus, frankincense, geranium, grapefruit, lavender, lemon, orange, palmarosa, rosemary, ylang ylang
Not all clove oil is the same. That's why we make sure to provide you with only the best nature has to offer. All of Lunamy's products are USDA Organic and are made with the finest quality oils available so that you can truly relax.
This information is for educational purposes about the traditional uses of essential and carrier oils only. These statements have not been evaluated by the Food and Drug Administration and this information is not intended to diagnose, treat, cure, or prevent any disease.